The contrast of old and new meet again in this spacious dining area, with the original doors up-cycled as counter-detailing, rustic wooden tables, sideboards and chairs perfectly complimented by contemporary furnishings and décor.
An open fireplace provides the perfect spot to enjoy an extended meal with friends, or choose one of the more intimate tables for a more romantic ambience.
When the weather agrees, an outdoor courtyard with a shade sail is ideal for open-air dining.
New Zealand Beef and Lamb 'Plate Award- 20219
We have been awarded a New Zealand Beef and Lamb "Plate" for 2019, joining Plates from 2017 and 2018, with our Beef and Lamb dishes on our Menu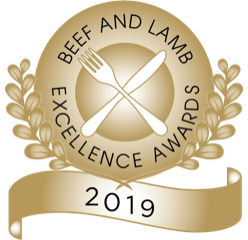 Level 2
We are open 7 days for dining.
You will need to sign in, masks are required to be worn on entering the restaurant and if you leave your table to go to the restrooms,to pay or leave the restaurant .
There will be 1m distancing between tables.
Lunch and Dinner bookings are recommended.