History of the Building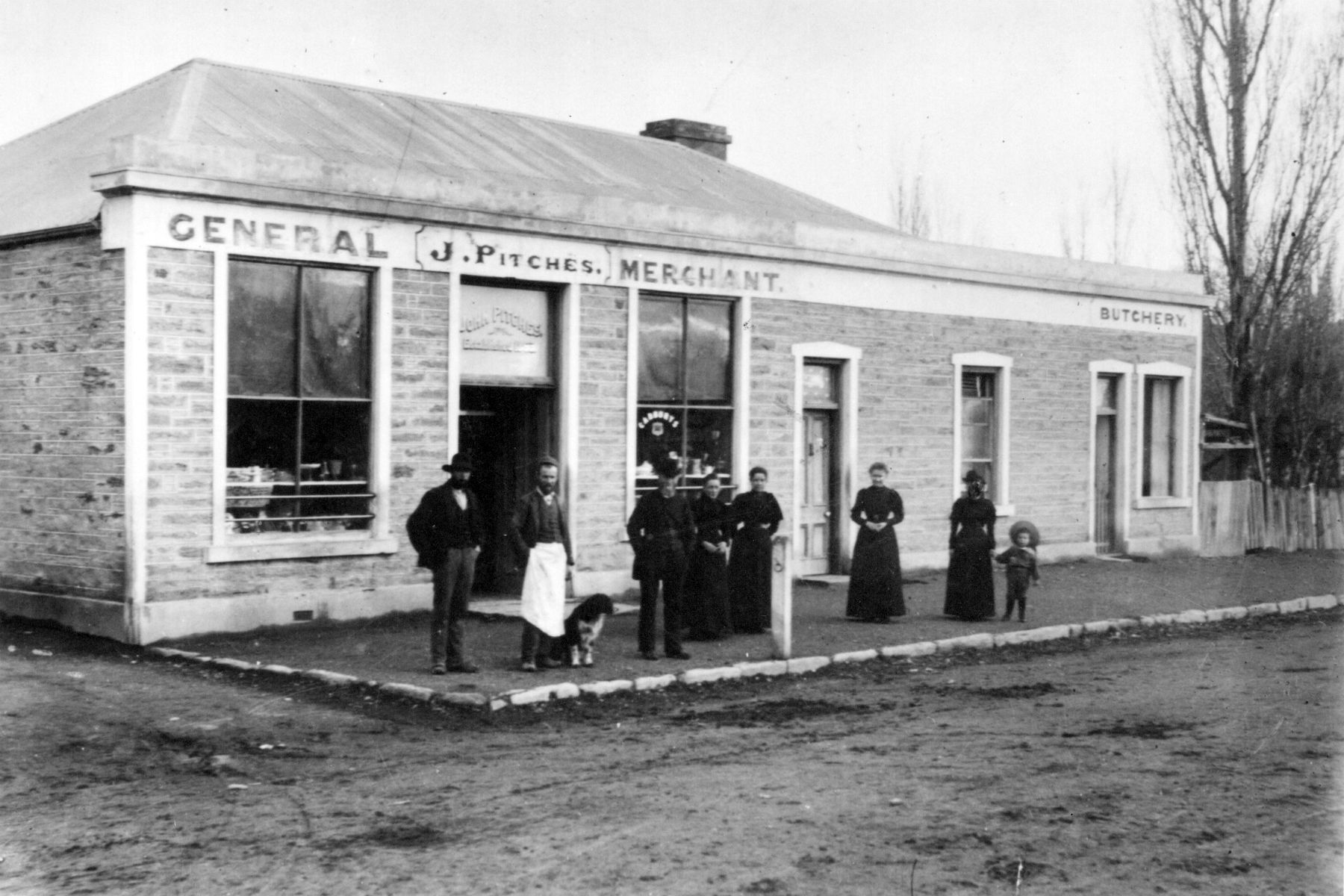 In 1874 the land the building is on was registered to John Pitches and his brother Samuel Pitches. The other section had a store established in 1863 on it which burnt down. In 1883 the new building was built and by now Samuel was no longer part of the business.
The business was run as a General Store and a butchery was added to the far end of the building, (we believe in the 1890's). In-between the two businesses there was family accommodation. There were also two lean-to extensions built at the rear of the building, maybe shop storage and certainly family accommodation.
John Pitches died in 1920 in Melbourne Australia where he had come from in 1862. The building was left to his heirs, William, Andrew his sons, and James and Eliza Pitches. William and Andrew lived in Ophir and James and Eliza, his nephew and niece in Australia. Eliza was named as spinster of Australia!
During the 1920s it stopped operating as a General Store.
In 1924 the property was passed to Andrew Pitches alone. In 1930 it was then passed onto Martha or Lizzie, Sinnamon, spinster of Poolburn, scandalously, we have heard rumoured were in fact a couple!
There was a fire started in the chimney in November 1930 and burnt out the extension and the roof of the main building. A smaller gabled roof replaced the former hip roof which kept the building watertight
It was then passed onto George Sinnamon in 1955 and to Allan Sinnamon in 1956. . The Sinnamon men were all farmers in Poolburn over the hill from Ophir.
In 1958 Russell Craig bought it. He was a bus proprietor and we presume it was he who made the changes to the front and side of the building to accommodate his bus!
In 1962 Russell Hayes bought the building and used it as a garage with petrol pumps. He also had a leather tanning business and a canvas making business.
In 1969 Russell Hayes sold it to Sydney George Attfield who then sold it to Donald Brookes entrepreneur of Omakau in 1991. There was a woodworking business and an engineering business in the building sometime during those years.
In 2000 Cheryl and Murray Hall purchased the building then sold to Kevin and Andrea Krsinic in 2002. During these years it was used mainly for storage
In 2006 we purchased it with a dream of bringing the old girl back to life!